About the Artist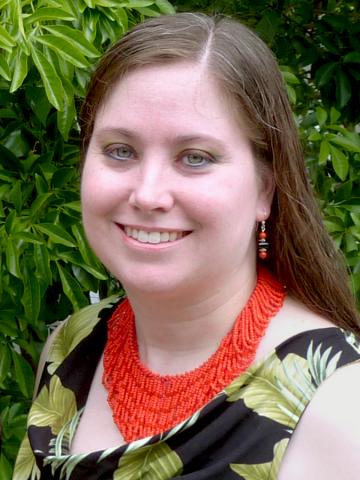 Carrie discovered beading at the young age of 5, after picking out a beaded ring kit at a Native American gift shop on vacation with family. She quickly became an entrepreneur, selling beaded necklaces to school friends, in addition to other handmade jewelry. She has been steadily seed beading ever since.
After growing up in Las Vegas, she moved across the country to attend RIT in Rochester, NY. Graduating with a B.S. in Imaging and Photographic Technology, Carrie has worked for both Kodak and Fuji Hunt. Carrie moved to the Washington DC metro area in 2002 where she worked for Accents Beads. Serving as the Classroom Coordinator, she developed the class program at Accents Beads from infancy to over 20 outside teachers and over 2400 students. Carrie now resides on Oahu in Hawaii where she is pursuing her passion for beading and photography.
She taught her first class at the Edwardian Needle, a specialized needle arts store in Bloomfield, NJ. Since then, she has taught at Accents Beads, Bead It!, local bead societies and guilds, as well as privately. Coming from an exclusively seed beading background, she had to change her ways when she moved to DC as there were no seed bead stores to be found at the time. Well, that was easy to fix. Having loved rocks since childhood, semi-precious stones quickly became her new passion. With a great eye for color, Carrie hopes to continue pursuing her passion, mixing bead medias across the board. She has won several awards for her beadwork, and has had several pieces displayed at The Bead Museum, DC in previous exhibits. She was a finalist in the Swarovski category for Fire Mountain Gems in 2008. She was also a Swarovski finalist in the 2011 Bead & Button Bead Dreams competition. Her work was also featured in the 2012 and 2014 Hawai'i Craftsmen Fiber Hawaii shows at The Honolulu Museum of Art School. Carrie started teaching nationally in 2012 with several classes and kits debuting at the Bead & Button Show in Milwaukee, Wisconsin. She will be returning to Bead & Button this year where she will be revealing several new classes for 2015.

Carrie was the photographer for Amy Katz's Seed Bead Chic which was published in 2014 by Lark books. Her photographs for Amy Katz and Paulette Baron as well as her own work have been featured in several Lark publications.