Cappuchino Twist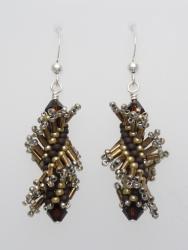 SKU: 16-2800
These gorgeous contemporary twists are a must have for your art jewelry collection. There's nothing better than wearing your art for everyone to see. With all that flair, these little twists will showcase your own personal style. And, with over fifteen color combinations to choose from, you are sure to find one that speaks to you.

Tantalizing Twists are exclusively designed by Carrie Johnson. Each pair of earrings is hand stitched in peyote stitch using Japanese seed beads and finished with Swarovski crystals.
* Available in your choice of Sterling Silver or Gold-Filled findings.