Home
› Swarovski Crystal Cross - Multicolor 3-Tone
Swarovski Crystal Cross - Multicolor 3-Tone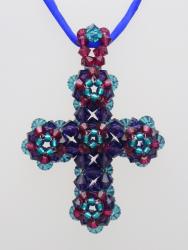 SKU: 13-8600
This gorgeous pendant is made using Swarovski Crystal. Crosses are 3-D and are available in several different options:

1. Monochromatic 2-Tone (uses the same color, one light and one dark)
2. Multicolor 2-Tone (uses two different colors)
3. Multicolor 3-Tone (uses three different colors)

MADE TO ORDER

Pendants are sold individually without a chain. Bail is large enough to fit through most chains including the clasp. You must provide your own chain or select a matching silk string available for $5.00.