Home
› Victorian Rose Petals E1 - Carrie's Colorways
Victorian Rose Petals E1 - Carrie's Colorways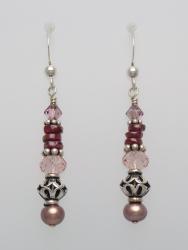 SKU: 28-8800
These beautiful pieces are part of Carrie's unique Colorways Collection. There are several color options for you to choose from:

Silver Mist
Copper Canyons
Purple Passion
Pearlescent Peacock
Victorian Rose Petals

NO two pieces are alike. Bali style Sterling Silver, gemstones, fresh water pearls, and Swarovski crystals are the secret ingredients. Mix and match your favorite pieces from each collection. Bracelets and necklaces are all asymmetrical while earrings are available in both asymmetrical and symmetrical styles. Each piece is individually made and are part of Carrie's exclusive Colorways Collection.

Bracelets and Necklaces are available in different sizes with either:
1. Toggle Clasp (fixed length)
OR
2. Lobster Claw Clasp and a Chain Extender (variable length up to 1.25"). With the chain extender, you also get a dangle at the end of the chain.