Home
› Weathered River Rocks in Golden Lime
Weathered River Rocks in Golden Lime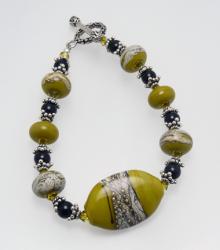 SKU: 3-9300
This beautiful glass treasure is part of my Weathered River Rocks Collection. Each bracelet is made using hand-crafted artisan lampwork beads (glass) by Cindy Craig. The lampwork beads are accompanied by Swarovski crystal as well as sterling silver beads and findings to showcase their stunning natural quality. Reminiscent of river rocks worn smooth by flowing waters, these bracelets are cool to the touch, and very soothing to wear as they glide along the wrist.

The golden lime (also similar to a greenish mustard yellow) lampwork beads in this bracelet are sleek and the focal bead is stippled with silver dots. This color is just stunning and reminds me of the fall leaves before they turn red in the Northeast. Note - this color is not for everyone as it works best on dark skin or very pale skin. Black Onyx is also used in this bracelet. Each bracelet is unique and one-of-a-kind.

This bracelet is approx. 7 1/4"

This bracelet may be resized if needed to approximately 6", 6 1/2", 7", 7 1/2", 8", and 8 1/2". If the bracelet is resized, it will vary from the picture displayed here. To increase or decrease the length, beads will be added or subtracted from each side of the bracelet. The bracelet may not retain the exact design as shown in order to accommodate the length.